In 1929 a break wall was constructed by the American Construction Co. to protect Cleveland's water treatment plant located on the shores of Lake Erie at E.140th St. and Lakeshore Blvd. The newly constructed break wall provided no access to the lake, so in 1938 a young entrepreneur and avid boater donated $10,000 to create passage to Lake Erie and the new era of today's Northeast Yacht Club began.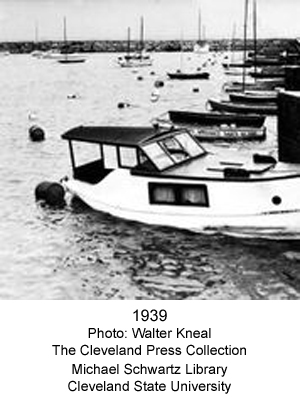 Originally established in 1938 as White City Yacht Club, our founding members constructed wood-framed dockage and by 1945 White City Yacht Club was home to over 100 faithful members. In 1952 a powerful Lake Erie storm destroyed the club's wooden docks. White City Yacht Club's loyal membership rallied to rebuild the docks with an efficient new harbor design. Construction began immediately featuring new steel catwalks for the 9-acre harbor and dockage for more than 150 boats.
Our clubhouse which originally served as a storage facility for U.S. military torpedoes was purchased in 1948 from the United States Navy. The 15′ x 30′ building was relocated by membership to its current location on club grounds. With the new clubhouse in place, White City Yacht was renamed Northeast Yacht Club in 1948.

Over the years, numerous clubhouse expansions, modernizations, and continuous renovation attracted rapid membership growth to Northeast Yacht Club. Membership affordability, club amenities, and member interaction, combined with the convenience of our location and immediate access to Lake Erie and numerous Cleveland area points of interest, became widely recognized.
In 2002 Northeast Yacht Club's new break wall was constructed. Vastly improved, its new twelve-foot-wide footprint stands eleven feet above Lake Erie and provides Northeast Yacht Club's harbor with reliable protection from the potential furies of Lake Erie.